29.12.2016 | Ausgabe 3/2017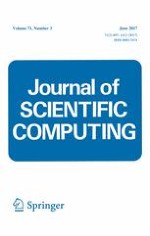 Efficient and Accurate Computation of Electric Field Dyadic Green's Function in Layered Media
Zeitschrift:
Autoren:

Min Hyung Cho, Wei Cai
Wichtige Hinweise
This work was supported by a grant from the Simons Foundation (#404499, Min Hyung Cho) and W. Cai is supported by US Army Research Office (Grant No. W911NF-14-1-0297) and US NSF (Grant No. DMS-1619713).
Abstract
Concise and explicit formulas for dyadic Green's functions, representing the electric and magnetic fields due to a dipole source placed in layered media, are derived in this paper. First, the electric and magnetic fields in the spectral domain for the half space are expressed using Fresnel reflection and transmission coefficients. Each component of electric field in the spectral domain constitutes the spectral Green's function in layered media. The Green's function in the spatial domain is then recovered involving Sommerfeld integrals for each component in the spectral domain. By using Bessel identities, the number of Sommerfeld integrals are reduced, resulting in much simpler and more efficient formulas for numerical implementation compared with previous results. This approach is extended to the three-layer Green's function. In addition, the singular part of the Green's function is naturally separated out so that integral equation methods developed for free space Green's functions can be used with minimal modification. Numerical results are included to show efficiency and accuracy of the derived formulas.