01.06.2015 | Ausgabe 6/2015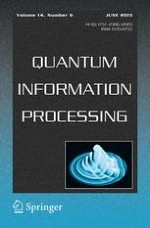 Efficient and faithful remote preparation of arbitrary three- and four-particle
\(W\)

-class entangled states
Zeitschrift:
Autoren:

Dong Wang, You-Di Hu, Zhe-Qiang Wang, Liu Ye
Abstract
We develop two efficient measurement-based schemes for remotely preparing arbitrary three- and four-particle
W
-class entangled states by utilizing genuine tripartite Greenberg–Horn–Zeilinger-type states as quantum channels, respectively. Through appropriate local operations and classical communication, the desired states can be faithfully retrieved at the receiver's place with certain probability. Compared with the previously existing schemes, the success probability in current schemes is greatly increased. Moreover, the required classical communication cost is calculated as well. Further, several attractive discussions on the properties of the presented schemes, including the success probability and reducibility, are made. Remarkably, the proposed schemes can be faithfully achieved with unity total success probability when the employed channels are reduced into maximally entangled ones.