01.07.2016 | Ausgabe 4/2016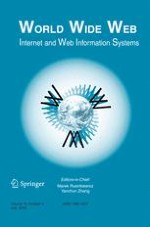 Efficient batch similarity join processing of social images based on arbitrary features
Zeitschrift:
Autoren:

Yi Zhuang, Nan Jiang, Zhi-Ang Wu, Jie Cao, Chunhua Ju
Abstract
In this paper, we identify and solve a multi-join optimization problem for
A
rbitrary
F
eature-based social image
S
imilarity
JOIN
s(AFS-JOIN). Given two collections(i.e.,
R
and
S
) of social images that carry both
visual
,
spatial
and
textual
(i.e., tag) information, the multiple joins based on arbitrary features retrieves the pairs of images that are visually, textually similar or spatially close from different users. To address this problem, in this paper, we have proposed three methods to facilitate the multi-join processing: 1)
two baseline approaches
(i.e., a naïve join approach and a maximal threshold(MT)-based), and 2)
a
B
atch
S
imilarity
J
oin(
BSJ
)
method
. For the BSJ method, given
m
users' join requests, they are first conversed and grouped into
m
″ clusters which correspond to
m
″ join boxes, where
m
>
m
″. To speedup the BSJ processing, a feature distance space is first partitioned into some cubes based on four segmentation schemes; the image pairs falling in the cubes are indexed by the
cube tree index
; thus BSJ processing is transformed into the searching of the image pairs falling in some affected cubes for
m
″ AFS-JOINs with the aid of the index. An extensive experimental evaluation using real and synthetic datasets shows that our proposed BSJ technique outperforms the state-of-the-art solutions.