2011 | OriginalPaper | Buchkapitel
Efficient CDH-Based Verifiably Encrypted Signatures with Optimal Bandwidth in the Standard Model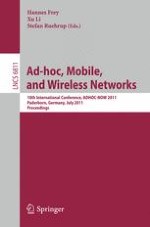 Erstes Kapitel lesen
Autoren: Yuan Zhou, Haifeng Qian
Verlag: Springer Berlin Heidelberg
Exchanging items over mobile ad hoc network has been considered a challenging issue in recent years. To tackle this challenge, Verifiably Encrypted Signature (VES), which is employed as primitives when designing a large class of protocols such as certified email, fair exchange, and contract signing in wireless communication, provides a possible solution. However, the limited communication band, low computational ability and weak energy power restrict many existing verifiably encrypted signatures to be applied in ad hoc networks directly.
In this paper, we propose a compact verifiably encrypted signature scheme without random oracles based on the Computational Diffie- Hellman problem (CDH) with pairings. Comparing with prior works, our scheme achieves the following desired features: (1) Our verifiably encrypted signature has compact size (only two group elements) which is optimal for both Elgamal encryption and the Waters signature; (2) The scheme is more efficient in terms of signature generation and verification; (3) Our scheme also achieves provable security under a
standard
complexity assumption in the
standard
model. Apparently, our schemes are amongst the most efficient solutions in terms of both signature size and computation (
optimal
) because these features are important in wireless communication due to limited bandwidth and power. It can be surely applied flexibly to many secure exchange circumstances in mobile ad hoc network that solely allows the
minimum
cryptographic implementation.