05.02.2018 | Original article | Ausgabe 3/2018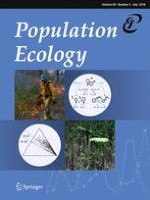 Efficient single-survey estimation of carnivore density using fecal DNA and spatial capture-recapture: a bobcat case study
Zeitschrift:
Autoren:

Dana J. Morin, Lisette P. Waits, David C. McNitt, Marcella J. Kelly
Wichtige Hinweise
Electronic supplementary material
Abstract
Population density estimates are necessary to inform management and conservation, yet are difficult to obtain for cryptic species such as carnivores, and often require intensive sampling. We implemented a single-survey, closed session, scat sampling protocol to estimate bobcat density using fecal DNA and spatial capture-recapture at two sites over five sessions in Virginia, USA. We employed a Poisson encounter model to allow for multiple detections on scat transect segments over a single collection interval, and compared single session and multistrata (closed, multi-site, multisession) spatial capture-recapture (SCR) approaches to estimate density for each site and session. We found improved precision for most estimates using the multistrata SCR approach, sharing data on baseline detection and individual movement across sites and sessions. We suggest the summer session estimates are representative of the resident population, that differences in density between summer and winter are representative of potential net recruitment, and that differences between consecutive summer sessions are representative of the net recruitment realized for the population (dependent on survival and emigration). Finally, we assessed factors affecting precision in single session model estimates and provide recommendations to improve detection and reduce credible intervals that may be applicable across the bobcat range and to other carnivore species. The single survey transect methodology provides flexibility in monitoring carnivore populations specifically, or as part of concurrent monitoring for multiple carnivore species. This methodology has potential to dramatically increase the effectiveness of conservation and management dollars, improving our ability to monitor carnivore populations and assess conservation needs and actions.