01.10.2019 | Ausgabe 10/2019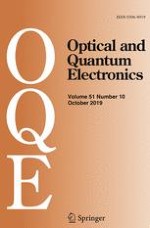 Efficient SnO2/CuO/porous silicon nanocomposites structure for NH3 gas sensing by incorporating CuO nanoparticles
Zeitschrift:
Autoren:

Husam R. Abed, Alwan M. Alwan, Ali A. Yousif, Nadir F. Habubi
Wichtige Hinweise
Publisher's Note
Springer Nature remains neutral with regard to jurisdictional claims in published maps and institutional affiliations.
Abstract
In this paper, a porous silicon (Psi) surface modification process, including the incorporating of pure and CuO mixed SnO2 within a Psi layer, was investigated. A Psi layer with a pore-like structure prepared via laser-assisted etching process with a laser illumination intensity of (40) mW/cm2 was employed as a substrate for materialization SnO2/CuO/Psi nanocomposites for gas sensing application. Pure SnO2 and SnO2:CuO nanoparticles were synthesized via a chemical spray pyrolysis process on the Psi surface at 350 °C. The materialization of SnO2:CuO/Psi nanocomposites were recognized through Field-Emission Scanning Electron Microscopy, X-ray Diffraction, Atomic Force Microscopy, and Energy-dispersive X-ray Analysis. The results displayed that the morphological properties of SnO2:CuO nanoparticles were definitely controlled by varying the CuO contents. Different shapes (nearly cubic shape and spherical shape) with various sizes of SnO2 and SnO2:CuO within the Psi surface were achieved by increasing the CuO content. SnO2:CuO/Psi nanocomposites, plans, grain size, average surface roughness, homogeneity and specific surface area of SnO2:CuO nanoparticles were considerably influenced by CuO content. The lower grain size and higher average surface roughness and specific surface area were attained when the percentage of CuO was about 30% within the structure of 70% SnO2:30% CuO, and the performance of the NH3 gas sensor revealed a short response time with a high sensitivity of (88%).