01.08.2014 | Ausgabe 4/2014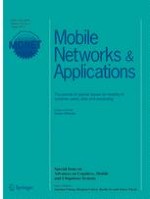 Efficient Spectrum Sensing with Minimum Transmission Delay in Cognitive Radio Networks
Zeitschrift:
Autoren:

Hang Hu, Hang Zhang, Hong Yu
Wichtige Hinweise
This work is supported by the National Fundament Research of China (973 No. 2009CB3020400) and Jiangsu Province Natural Science Foundation under Grant BK2011002.
Abstract
In cognitive radio (CR) networks, the secondary users (SUs) need to find idle channels via spectrum sensing for their transmission. In this paper, we study the problem of designing the sensing time to minimize the SU transmission delay under the condition of sufficient protection to primary users (PUs). Energy detection sensing scheme is used to prove that the formulated problem indeed has one optimal sensing time which yields the minimum SU transmission delay. Then, we propose a novel cooperative spectrum sensing (CSS) framework, in which one SU's reporting time can be used for other SUs' sensing. The analysis focuses on two fusion strategies: soft information fusion and hard information fusion. Under soft information fusion, it is proved that there exists one optimal sensing time that minimizes the SU transmission delay. Under hard information fusion, for time varying channels, the novel multi-slot CSS is derived. The performance of SU transmission delay is studied in both perfect and imperfect reporting channels. Some simple algorithms are derived to calculate the optimal sensing settings that minimize the SU transmission delay. Computer simulations show that fundamental improvement of delay performance can be obtained by the optimal sensing settings. In addition, the novel multi-slot CSS scheme shows a much lower transmission delay than CSS based on general frame structure.