01.10.2007 | Ausgabe 5/2007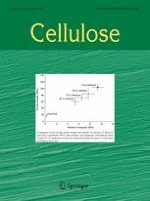 Efficient synthesis of cellulose furoates in 1-
N

-butyl-3-methylimidazolium chloride
Zeitschrift:
Autoren:

Sarah Köhler, Thomas Heinze
Wichtige Hinweise
Thomas Heinze is the member of the European Polysaccharide Network of Excellence (EPNOE), www.epnoe.eu
Abstract
The ionic liquid 1-
N
-butyl-3-methylimidazolium chloride ([C
4
mim]
+
Cl
−
) was investigated as reaction media for the homogeneous acylation of cellulose with 2-furoyl chloride in the presence of pyridine. The preparation of cellulose furoate depending on the reaction conditions, the cellulose type and the pyridine content was studied. Cellulose furoates with a degree of substitution in the range from 0.46 to 3.0 were accessible, i.e., under mild conditions, with a low excess of reagent and in a short reaction time. The products were characterized by elemental analysis, perpropionylation,
1
H- and
13
C NMR spectroscopy and FTIR spectroscopy.