08.10.2018 | Original Paper | Ausgabe 12/2018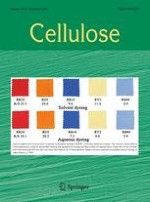 Efficient transesterification reaction of cellulose with vinyl esters in DBU/DMSO/CO2 solvent system at low temperature
Zeitschrift:
Autoren:

Huaxin Chen, Fahui Yang, Jiehao Du, Haibo Xie, Lihua Zhang, Yuanlong Guo, Qinqin Xu, Qiang Zheng, Nanwen Li, Yu Liu
Wichtige Hinweise
Electronic supplementary material
Abstract
The transesterification reaction between cellulose and vinyl esters is regarded as a clean and facile strategy for the tunable synthesis of cellulose esters. In this study, a series of cellulose esters with degrees of substitution from 0.58 to 3.0 have been prepared successfully under mild conditions without adding any external catalysts when cellulose was dissolved in the 1,8-diazabicyclo[5.4.0]undec-7-ene (DBU)/DMSO/CO2 solvent system and then followed by adding equimolar amounts of long chain fatty, aromatic, branched and steric vinyl esters. The optimization study of different reaction parameters like reaction time, temperature and amounts of substrates demonstrates that the reaction can proceed smoothly even at room temperature. This is evidenced by a cellulose benzoate with a DS of 2.6 obtained when the reaction is performed at 25 °C in 4 h. The as-prepared cellulose esters structure has been confirmed by 1H NMR, 13C NMR and FTIR, and material thermal properties were evaluated by DSC and TGA for an in-depth understanding the relationship between the cellulose esters structure and properties. It is believed that the DBU not only acts as a reagent for the CO2-derivative dissolution of cellulose in DMSO, but also acts as an in situ organocatalyst for the subsequent transesterification reaction.
Graphical abstract
Cellulose esters have been prepared successfully at low temperature using long chain fatty acids, aromatic, branched and steric vinyl esters as acyl donors in the DMSO/DBU/CO
2
solvents system, and the DBU not only acts as reagents for the CO
2
-derivative dissolution of cellulose in DMSO, acts as an organocatalyst for the subsequent derivatisation.
×