2017 | OriginalPaper | Buchkapitel
eGov Services' Consumers in the Process of Innovations' Diffusion: The Case from St. Petersburg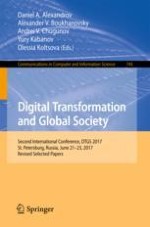 Erstes Kapitel lesen
Autoren: Lyudmila Vidiasova, Andrei Chugunov
Abstract
In this paper, we contribute to the research of e-government development from a demand-side. The study was carried out in groups of online services' consumers, per E. Rogers adopter categories: innovators, early adopters, early majority, late majority, and laggards. The sociological survey has been conducted with the purpose to reveal differentiation of online services' users. 450 respondents have been interviewed during the research.
The study concentrated on the following indicators connected with citizens or a demand-side: IT skills and Internet usage, online services usage, awareness of new services, level of satisfaction, and reasons of dissatisfaction with the portals.
The survey detected a frequent Internet usage, growth of citizens' awareness of online services portal, interest to the interactive part of the portal, and 4 times increase of satisfaction with online services.
The authors proved recommendations for a smoother online services' adoption by the late majority and laggards groups.