06.05.2019 | Originalarbeit | Ausgabe 7-8/2019 Open Access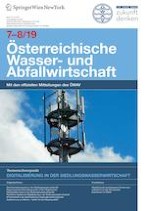 Einsatzmöglichkeiten von Geoinformationssystemen in der Siedlungswasserwirtschaft am Beispiel Einbindung dezentraler Entwässerungssysteme zur Entlastung des städtischen Abwassernetzes
Zeitschrift:
Autoren:

MSc Yannick Back, DI Jonatan Zischg, Dipl.-Geogr. Magnus Bremer, PD Dr. Martin Rutzinger, Assoz.-Prof. DI Dr. Manfred Kleidorfer
Wichtige Hinweise
Abb. 1 und Tab. 1 wurden wiederverwendet/übersetzt aus: Toth und Józków (2016): Remote sensing platforms and sensors: A survey. ISPRS Journal of Photogrammetry and Remote Sensing (115): 22–36 (mit Erlaubnis von Elsevier).
Hinweis des Verlags
Der Verlag bleibt in Hinblick auf geografische Zuordnungen und Gebietsbezeichnungen in veröffentlichten Karten und Institutsadressen neutral.
Zusammenfassung
Im Zuge der voranschreitenden Digitalisierung und der damit verbundenen steigenden Verfügbarkeit von digitalen Daten gewinnen geografische Informationssysteme zur Analyse und Verwaltung von Geodaten in vielen technisch-wissenschaftlichen Bereichen, einschließlich der Siedlungswasserwirtschaft, immer mehr an Bedeutung. Rund 90 % der weltweit verfügbaren digitalen Daten wurden allein in den letzten zwei Jahren generiert. Die steigende Verfügbarkeit von digitalen Daten bietet zum einen ein neues Potenzial von Anwendungsmöglichkeiten, andererseits aber für den/die Endbenutzer/in und Planer/in Unklarheiten über den Informationsgehalt. Ziel dieser Arbeit ist es, einen Überblick über georeferenzierte Daten, deren Maßstabsebenen und Verfügbarkeit zu geben. Zudem werden Anwendungsbeispiele, wie sie in der Siedlungswasserwirtschaft zur Einbindung von dezentralen Entwässerungssystemen vorkommen, dargestellt und beschrieben. Neben Untersuchungen der Fließrichtungen und Akkumulation des Regenwassers an der Oberfläche werden auch Methoden gezeigt, welche die Planung von grüner und blauer Infrastruktur erleichtern, um existierende Anlagen, vor allem bei Starkniederschlägen, zu entlasten.