Erschienen in: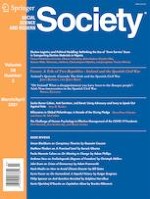 20.05.2021 | Social Science and Public Policy
Election Logistics and Political Meddling: Rethinking the Use of 'Town Service' Buses in Transporting Election Materials in Nigeria
Erschienen in: Society | Ausgabe 2/2021
Einloggen, um Zugang zu erhalten
Abstract
This study examines the problems of election logistics and political meddling and their effects on African elections. It relies essentially on primary data drawn from participant observation and 53 key participant interviews conducted across 16 electoral wards in Southeastern Nigeria during the 2019 election. The study reveals some logistical problems involved in the hiring of public transport services ('town service' buses) to convey electoral materials in Nigeria such as poor ethical conduct among public transporters/drivers, lack of effective mobilization of drivers, poor compliance with road safety standards, breach of contract agreement, ineffective information sharing on the flow of election materials, and complicity in electoral malpractices. Also, poor road networks result in random breakdowns of hired 'town service' buses. Local politicians leverage these gaps to meddle in election logistics which orchestrate electoral fraud. The study sheds light on the need to streamline election logistics and develop ballot tracking systems in order to improve the distribution, tracking, and retrieval of sensitive and non-sensitive election materials during elections.