01.09.2013 | Ausgabe 9/2013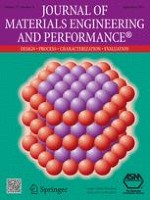 Electric and Dielectric Properties of Cr-Ga Substituted BaM Hexaferrites for High-Frequency Applications
Zeitschrift:
Autoren:

Ihsan Ali, M. U. Islam, M. S. Awan, Mukhtar Ahmad
Abstract
Single-phase Cr-Ga-substituted BaM hexaferrites with chemical formula BaCr
x
Ga
x
Fe
12−2

x
O
19
(
x
= 0.0, 0.1, 0.2, 0.3, and 0.4) are synthesized by means of a sol-gel autocombustion technique. Cold isostatic-pressing technique has been used to press the as-prepared powders into pellets. Room-temperature DC resistivity enhances with the substitution of Cr-Ga contents. The temperature dependence of the DC resistivity shows the semiconducting nature. The dielectric constant and dielectric tangent loss decrease, while AC conductivity increases with the increasing applied field frequency in the range of 1 MHz-3 GHz consistent with Koop's theory and Maxwell-Wagner's bi-layer model. The magnetic loss enhances, while the reflection coefficient decreases with the increase of frequency as well as with the increase of Cr-Ga contents. Owing to improved properties, these materials are potential candidates for high-frequency applications in GHz range.