30.09.2019 | Ausgabe 6/2019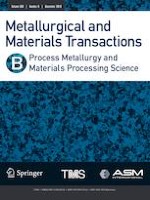 Electric Conductivity of TiO2-Ti2O3-FeO-CaO-SiO2-MgO-Al2O3 for High-Titania Slag Smelting Process
Zeitschrift:
Autoren:

Kai Hu, Xuewei Lv, Wenzhou Yu, Zhiming Yan, Wei Lv, Shengping Li
Wichtige Hinweise
Manuscript submitted March 10, 2019.
Publisher's Note
Springer Nature remains neutral with regard to jurisdictional claims in published maps and institutional affiliations.
Abstract
The electric conductivity of high-titania slag of TiO2-Ti2O3-FeO-CaO-SiO2-Al2O3-MgO slag system was measured by means of four-electrode alternating current (AC) impedance method. The results show that high-titania slag exhibits a good electric conductivity, around 45 to 141 S cm−1 with slight dependence on the temperature, which is of several orders of magnitude higher than that of the silicate slags. Further, electric conductivity of high-titania slag decreased with the increasing FeO content, whereas, the increasing Ti3+/Ti4+ and TiO2 contents caused a significant increase in the electric conductivity. Based on the experimental results and the calculated results, the conductive mechanism of high-titania slag was discussed in detail. It can be concluded that the high-titania slag exhibits a characteristic of electronic–ionic mixed conductivity, but the effect of electronic conduction dominates above the liquidus temperature; however, with the decreasing temperature, the electronic conductivity was gradually weakened. The mechanism was postulated to be a random walk of electrons between tetravalent titanium and trivalent titanium dispersed in the melt.