2018 | OriginalPaper | Buchkapitel
4. Electrically Small Planar Antennas Based on Metamaterial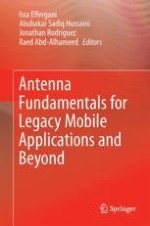 Erstes Kapitel lesen
Autoren: Mohamed Lashab, Naeem Ahmad Jan, Fatiha Benbdelaziz, Chems Eddine Zebiri
Abstract
Planar antennas are suitable for broadband solution applications due to their low profile, wide bandwidth, ease of manufacturing, and simple geometry. They include antennas with planar radiators such as microstrip antennas, suspended plate antennas, coplanar waveguide (CPW) antennas, planar monopole antennas, and planar inverted-L and inverted-F antennas (PILAs and PIFAs). Applications have covered cellular phone systems and wireless local area networks (WLANs), wireless personal area networks (WPANs), and Worldwide Interoperability for Microwave Access (WiMAX). Planar electrically small antennas (ESAs) are a new research topic, and many researchers are interested in working on its subtopics. This research work has been extensively studied over the decades for different microwave applications (Christou and Polycarpou, IEEE Trans Electromagn Compat 59(2), 2017; Manteghi, IEEE Trans Antennas Propag 64(4), 2016). Due to its compact dimension, an ESA always exhibits a high impedance mismatch, high quality factor, and low cross-polarization especially for a planar antenna; also, it provides good overall efficiency (OE) and a narrow fractional bandwidth (FBW). For an ESA, there is always an essential lower bound on the quality factor concerning the antenna's physical size and operating wavelength or frequency range.
Metamaterials, known as artificial materials, have attracted great attention due to their unique electromagnetic properties. Various types of metamaterial have been proposed with different characteristics—e.g., negative permittivity and negative permeability or both negative values, known as double negative (DNG) (Daniele et al., IEEE Antennas Wirel Propag Lett 12, 2013)—for with these values of the constitutive parameters, the material provides interesting properties that can be implemented in the antenna, especially for the coplanar waveguide negative refractive index, magnetic conductivity, etc. These unusual properties play an important role in modern antenna design, which can provide better performance, more functions, and more flexibility.
Recent advances in antenna design technology have led to zero order resonators (ZORs), which mainly started from composite right/left handedness (CRLH), which started the theory of transmission line (TL) properties considered as metamaterial behavior; this was developed for the first time by Caloz and Itoh (IEEE Trans Antennas Propag 52(5), 2004). The CRLH-TL technology is based on a combination of essential parts as right hand (RH) and left hand (LH) electric equivalent circuits; these two parts make the antenna resonate on frequencies that are independent of its dimensions. With regard to antennas with resonant structures such as SRRs (split ring resonators), they are generally lossy, narrow banded, and also difficult to implement for microwave applications. LHMs (left hand metamaterials) developed from TL theory in general offer a very wide band and very low losses. Many research works have proved that a ZOR-TL can be used to provide an electrically small antenna, which looks like using electrically large antennas; also, ESAs can be manufactured widely to improve matching and radiation properties. This feature can be used to design miniature antennas for passive radiofrequency identification (RFID) applications (Turalchuk et al., IEEE Antennas Wirel Propag Lett 14, 2015) and also for miniaturized WiMAX and WLAN antenna circuits (Li and Zhu, IEEE Antennas Wirel Propag Lett 12, 2013).
In this research, planar antennas such as coplanar waveguides loaded with different types of metamaterial such as SRRs, ZORs, and CRLH-TLs are studied in order to exhibit the miniaturization effect, these antennas are generally applied for wireless communication (WLAN and WiMAX).