2022 | OriginalPaper | Buchkapitel
10. Electricity, Magnetism and Light and Their Inter-relationship. Electrolysis and Electrochemistry. Foundations for Both the 'Mechanised Age' (Powered by Electricity) and Radio Broadcasting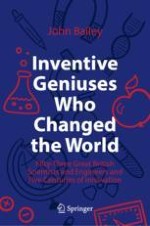 Erstes Kapitel lesen
Autor: John Bailey
Abstract
The ancient Greeks knew that when amber is rubbed with wool or fur, it will attract light objects such as feathers or bits of straw. The word 'electric' (from the Latin word,
electrum
meaning amber, and the modern Latin word
electricus
) was first used by Gilbert in 1600. Nowadays, we use the term "triboelectric effect" to describe the electrification of dissimilar materials which are brought together and then separated. For example, when hair is rubbed with an inflated balloon, electrons from the hair migrate to the rubber latex wall of the balloon, leaving behind positively charged strands of hair which repel one another.
With the invention of the Voltaic pile, it became possible to produce electricity continuously. This propelled us into our modern world, without which it would be darker, colder, and quieter.
Humphry Davy was the first of a new generation of electricians who used electricity to establish the composition of chemical substances and produce several pure elements for the first time.
Of the 118 chemical elements currently appearing in the periodic table, a majority (20%) of them were discovered, co-discovered and/or isolated by British scientists. Davy alone was implicated in isolating, or discovering the rudimentary nature of, up to ten of these elements, and W. Ramsey in five.
Ninety-two of these elements are found naturally but only eight of them were involved in the formation of 98% of the rocks constituting the Earth's crust. Fifty-six of these 92 elements make up at least 0.1 mg of a typical human, with both light and heavy elements playing some role in the body's biological processes.
Davy effectively established the new scientific field of electrochemistry. He deduced that, for metal salts, chemical bonds are electrical in nature and that an electric current, involving the movement of electrons, could stimulate the making and breaking of bonds, resulting in chemical reaction. Electro-synthesis is a 'clean' process requiring no heat application or added reagents.
Davy is also remembered for his design of the Davy lamp to prevent fires and explosions, from methane-laden air in coalmines, causing injury and deaths to many coalminers. Davy was the first man to be knighted for service to science since Sir Isaac Newton. He was the first to be awarded a baronetcy. He conferred popularity, and even glamour, on the discipline of chemistry.
Michael Faraday came from a poor family; had limited education but became one of the greatest scientists in history. He was a man of relentless wonder and curiosity. He lived in the age of steam power, but he laid the foundations for the 'Age of Electrical Mechanisation'. The practical applications of Michael Faraday's discoveries have transformed the world. The versatility of his achievements, in diverse branches of science, was truly outstanding, and all mankind has benefitted from his findings. He deserves his place in the pantheon of great scientists.
Almost anything electrical uses the scientific principles that Faraday established, relying on the interplay between electric current, magnetic field, and mechanical motion. He was a talented experimentalist who constructed a device that exploited the interaction between electricity and magnetism, converting electrical energy into mechanical energy/continuous circular motion.
One of his greatest breakthroughs involved electromagnetic induction, whereby a magnetic field of excited electrons, momentarily produced an electric current. Next, he combined magnetism with mechanical motion to generate electricity continuously. In his first arrangement, an in–out motion of a magnet produced an alternating current that changed direction. In the second, he produced a direct current by spinning an electrically conductive disc in a permanent magnetic field.
His rudimentary laboratory devices and apparatus were the springboards for electric motors, DC generators, AC alternators, transformers, and miniature batteries. We have harnessed electricity to illuminate and power our modern world.
With W. Whenwell, he introduced the nomenclature of electrochemical terms. His two laws of electrolysis laid the foundation for other modern industries involving electroplating and the production of some chemicals.
He demonstrated that a hollow electrical (Faraday) cage can offer protection from an induced charge. He was the first scientist to make a link between electromagnetism and light, showing that an external magnetic field could cause the plane of light polarisation to rotate.
He demonstrated that cooling results from the evaporation of a gas previously compressed to a liquid, this forming the basis of today's refrigerators and freezers.
James Clerk Maxwell was a child prodigy and gifted mathematician. His many areas of scientific interest included astronomy (especially Saturn's ring) and optics. He worked on colour vision, determining a colour equation which gave quantitative measurements of the ability of the eye to match real colours. He co-produced the first ever colour photograph.
He played a key role in the development of statistical mechanics, paving the way for quantum mechanics. For his kinetic theory, he applied methods of probability and statistics to describe the speed distribution of an assembly of gaseous particles and how this would change as the temperature was raised.
Theoretical physicist, Maxwell, adopted a mathematical approach to some of Faraday's empirical findings. He succeeded in unifying three realms of physics, namely electricity, magnetism, and light. The basic rules by which light behaves, electric current flows and magnetism functions can be expressed in Maxwell's equations. His equations have a reach that extend to the extremities of the Universe.
His unified 'field theory' became a cornerstone in physics. Maxwell was a bridge between the mechanical world of Newtonian physics and the theory of fields as espoused by Einstein and others. He was possibly the greatest theoretical physics in the nineteenth century, later known as 'Scotland's Einstein'.
In the 1870s, his notions pointed to the existence of an 'electromagnetic spectrum', suggesting that 'nature's storehouse' might contain other types of radiation with frequencies both higher and lower than the visible spectrum. This speculation was vindicated during the next thirty years with the discovery of radio waves (1886) X-rays (1895) and γ-radiation (1900).
The discovery of these other forms of electromagnetic radiation have had far-reaching social impacts, setting the stage for modern lifestyles, information, and communication technologies, as well as medical applications, via X-ray machines and gamma rays.
The warm radiance of sunshine; a rainbow; the colourful beauty of Michelangelo's frescos; the soreness of sunburn; the sound and sight of radio and TV transmissions; the incandescent light bulb; the friendly telephone conversation; the hot meal taken from a microwave oven; the X-ray revealing a broken bone, all are brought to us by electromagnetic radiation, resulting from electrons, either accelerating along a metal conductor or descending from excited atomic orbits.