31.05.2016 | Original Paper | Ausgabe 17/2016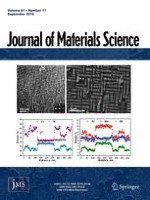 Electroactive phase nucleation and non-isothermal crystallization kinetics study in [DEMM][TFSI] ionic liquid incorporated P(VDF-HFP) co-polymer membranes
Zeitschrift:
Autoren:

Anirban Roy, Bula Dutta, Subhratanu Bhattacharya
Abstract
The electroactive phase nucleation and subsequent non-isothermal crystallization kinetics of different extents of aliphatic quaternary ammonium-based ionic liquid (IL)
N
,
N
-diethyl-
N
-(2-methacryloylethyl)-
N
-methylammonium bis(trifluoromethylsulfonyl) imide ([DEMM][TFSI]) incorporated poly(vinylidene fluoride)-hexafluoropropylene (PVDF-HFP) co-polymer membranes have been explored using Fourier-transform infrared spectroscopy (FT-IR), X-ray diffraction (XRD), and differential scanning calorimetry (DSC). Different macroscopic models are used to assess the overall non-isothermal crystallization parameters of the membranes. The effective activation energy (
E
X
) of the crystallization process of the membranes is estimated by the differential isoconversional methods of Friedman. The analysis of DSC responses, infrared spectra, and X-ray diffractograms of the different IL incorporated polymer membranes reveal that a possible interaction between the ions of the IL and disordered dipoles of the co-polymer in the melt state, essentially delays the overall crystallization process and preferentially yield different electroactive (all trans or trans-gauche) chain conformations at different cooling rates of crystallization. The proportional variation of effective activation energy and the value of the Hoffman–Lauritzen crystal growth parameters, adopting the method proposed by Vyazovkin, with the IL content also support the same.