01.08.2014 | Ausgabe 15/2014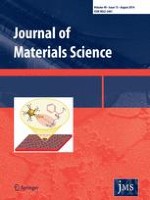 Electrochemical analysis of
p

-nitrophenol in acidic or alkaline medium using silver nanoparticle decorated multi-walled carbon nanotubes
Zeitschrift:
Autoren:

Benzhi Liu, Tian Wang, Chuntao Yin, Zhenglong Wei
Abstract
Silver nanoparticle decorated multi-walled carbon nanotubes (Ag/MWCNT) were prepared by a simple chemical plating method. The Ag/MWCNT nanocomposite modified glassy carbon electrode (Ag/MWCNT/GC) was fabricated. Electrochemical behavior of
p
-nitrophenol at the Ag/MWCNT/GC was studied by cyclic voltammetry. The Ag/MWCNT/GC electrode shows good electrocatalytic activity for the reduction of
p
-nitrophenol. Voltammetric determination of
p
-nitrophenol was carried out. Under optimal experimental conditions, the reduction peak current of
p
-nitrophenol is linearly proportional to its concentration in a range from 3.0 × 10
−6
to 1.2 × 10
−4
mol L
−1
in acidic medium and 3.5 × 10
−5
to 1.4 × 10
−4
mol L
−1
in alkaline medium, respectively.