01.09.2015 | Ausgabe 9/2015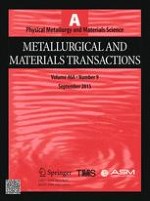 Electrochemical and Mechanical Behavior of Lead-Silver and Lead-Bismuth Casting Alloys for Lead-Acid Battery Components
Zeitschrift:
Autoren:

Wislei R. Osório, Leandro C. Peixoto, Amauri Garcia
Wichtige Hinweise
Manuscript submitted March 23, 2015.
Abstract
The present study focuses on the interrelation of microstructure, mechanical properties, and corrosion resistance of Pb-Ag and Pb-Bi casting alloys, which can be used in the manufacture of lead-acid battery components, as potential alternatives to alloys currently used. A water-cooled solidification system is used, in which vertical upward directional solidification is promoted permitting a wide range of microstructures to be investigated. Correlations between microstructural arrays, tensile strengths, and corrosion resistances of Pb-1 wt pct Ag, Pb-2.5 wt pct Ag, Pb-1 wt pct Bi, and Pb-2.5 wt pct Bi alloys are envisaged. It is shown that a compromise between corrosion resistance (represented by the corrosion current density) and mechanical properties (represented by the ultimate tensile strength) can be obtained. Comparisons between specific strengths and mechanical/corrosion ratios are also made. It is also shown that, for microstructures solidified under cooling rates higher than 10 K/s, the Pb-Ag alloys exhibit higher specific strength and mechanical/corrosion ratio. In contrast, for casting processes in which the cooling rates are lower than 5 K/s, the dilute Pb-Bi alloy (
i.e.,
1 wt pct Bi) is shown to have more appropriate requirements for lead-acid battery components. Comparisons between specific strengths, mechanical/corrosion ratio, and relative weight and cost with Pb-Sn and Pb-Sb alloys are also made.