01.08.2014 | Ausgabe 16/2014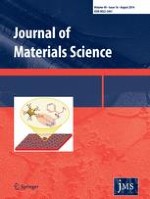 Electrochemical capacitance of poly(pyrrole-
co

-formylpyrrole)/sulfonated polystyrene layer-by-layer assembled multilayer films
Zeitschrift:
Autoren:

Kun Wang, Yang Cao, Motohiro Tagaya, Takaomi Kobayashi
Abstract
Poly(pyrrole-
co
-formylpyrrole), P(Py-
co
-FPy) was prepared on poly(4-styrenesulfonate acid) (PSS) using layer-by-layer (LBL) self-assembly process in the presence of trifluoroacetic acid (TFA) through straightforward chemical polymerization. The P(Py-
co
-FPy) and PSS multilayer contained homogeneous particulate surfaces with a hierarchical porous structure, depending on the number of layers and the PSS concentration. The layer cycles gave rise to increased electrical conductivity from 2.8 × 10
−4
S/cm at 2 layers to 3.2 × 10
−3
S/cm at 10 layers, implying the benefit of the doping effect of the sulfonic group on the improvement of electrical conductivity for multilayer films. The electrostatic interaction between the P(Py-
co
-FPy) and the PSS layer was confirmed from UV–visible spectra. It is enhanced by the number of layers and PSS concentration. Cyclic voltammetry and electrochemical impedance measurements showed that the electrochemical capacitance of those multilayer films is influenced by the increase of the number of layers and the PSS concentration, suggesting that the multilayer film morphology affects the electrochemical behavior.
Graphical Abstract
×