13.03.2019 | Ausgabe 8/2019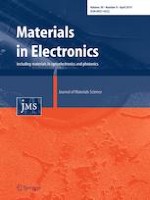 Electrochemical capacitive performance of free-standing polyindole film and effect of introducing alkyl chain connecting two indoles
Autoren:

Lie Zou, Xuemin Duan, Weiqiang Zhou, Hui Zhang, Shuai Chen, Jingdang Chai, Xing Liu, Liang Shen, Jingkun Xu, Ge Zhang
Wichtige Hinweise
Electronic supplementary material
Lie Zou, Xuemin Duan and Weiqiang Zhou have contributed equally to this work.
Publisher's Note
Springer Nature remains neutral with regard to jurisdictional claims in published maps and institutional affiliations.
Abstract
Polyindole (
PIn
), combining the good properties of polypyrrole and poly(
para
-phenylene), has been gained significant attention. But the capacitive performances of
PIn
and its derivatives electropsynthesized in boron trifluoride diethyl etherate (BFEE) were unknown so far. So we first prepared the free-standing
PIn
film in BFEE and studied its capacitive property. The specific capacitance value of
PIn
could achieve 270.2 F g
−1
at high current density of 10 A g
−1
. And the capacitance retained of
PIn
84.06% after 3000 cycles. For further studying the effect of introducing alkyl chains on the electrochemical properties of
PIn
, poly1,3-di(1H-indol-1-yl)propane
(P(IP-3))
, poly1,6-di(1H-indol-1-yl)hexane (
P(IH-6))
, and poly1,12-di(1H-indol-1-yl)dodecane
(P(ID-12))
bridged by alkyl chains with different lengths were electrosynthesized in BFEE. Through a series of experiments, we found that the specific capacitance performances of
P(IP-3), P(IH-6)
, and
P(ID-12)
were poorer than
PIn
, indicating the introduction of alkyl chains altered the electrochemical properties of the π-conjugated backbone of
PIn
and lowered its the properties, which could be proved by scanning electron microscope.