15.07.2019 | Energy materials | Ausgabe 20/2019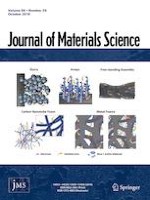 Electrochemical properties of Na0.5Bi0.5TiO3 perovskite as an anode material for sodium ion batteries
Zeitschrift:
Autoren:

K. Kamala Bharathi, Brindha Moorthy, Hanuma Kumar Dara, Lignesh Durai, Do Kyung Kim
Wichtige Hinweise
K. Kamala Bharathi and Brindha Moorthy have contributed equally to this work.
Publisher's Note
Springer Nature remains neutral with regard to jurisdictional claims in published maps and institutional affiliations.
Abstract
Sodium ion batteries (SIBs) are possible low-cost alternative to the current lithium ion batteries and hold great perspectives for large-scale renewable energy storage. However, the unavailability of appropriate anode material hinders the practical application of SIBs. Herein, we have examined the structural and electrochemical properties of perovskite Na0.5Bi0.5TiO3 (NBTO) and explored the possibilities of utilizing it as an anode component for Na ion batteries. The electrochemical measurement shows that the perovskite NBTO exhibits high sodium storage capability via alloying/de-alloying reaction, fast sodium storage kinetics, and a good cyclability. The perovskite Na0.5Bi0.5TiO3 delivers a high capacity of ~ 470 mAh g−1 at 100 mA g−1 and 230 mAh g−1 at 250 mA g−1, emerging as a new anode for SIBs. Furthermore, the perovskite Na0.5Bi0.5TiO3 can retain a capacity of ~ 215 mAh g−1 after 50 cycles at 100 mA g−1, which is comparable to several previous metal oxide anodes. In addition, the sodium storage behavior is investigated by ex situ XRD and XPS techniques. The high capacity and good rate capability suggest that the perovskite Na0.5Bi0.5TiO3 has great potential to serve as anodes for high-performing SIBs.