01.01.2015 | Original Paper | Ausgabe 1/2015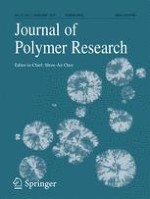 Electrochemically generated networks from poly(4,4′-triphenylamine-
co

-9,9-dioctyl-2,7-fluorene) with grafts containing carbazole groups
Zeitschrift:
Autoren:

Oana Iuliana Negru, Mircea Grigoras
Abstract
Herein, the synthesis of poly(4,4′-triphenylamine-
co
-9,9-dioctyl-2,7-fluorene) grafted with oligo
N
-(2-hydroxyethyl) carbazolyl methacrylate as side chains was performed in two steps. A macromonomer with dibromo-triphenylamine end was firstly synthesized by atom-transfer radical polymerization of
N
-(2-hydroxyethyl) carbazolyl methacrylate followed by Suzuki polycondensation of the macromonomer with 9,9-dioctylfluorene-2,7-diboronic acid. The graft copolymer was characterized by Fourier-transform infrared spectroscopy (FTIR),
1
H and
13
C-NMR spectroscopy while the optical properties were investigated by UV–vis and fluorescence methods. Cyclic votammetry studies evidenced that the redox processes were accompanied by the dimerization of carbazole pendant groups and polymer crosslinking with the formation of an insoluble network. The parent polymer was post-modified, in solution or bulk, by electrochemical oxidation leading to a crosslinked and insoluble network having electrochromic properties.