01.11.2017 | Technical Article | Ausgabe 6/2017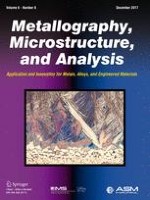 Electrodeposition and Characterization of Ni–W–Cr2O3 Nanocomposite Coating
Zeitschrift:
Autoren:

Yadong Zhang, Xiang Leng, Xiaofen Wang, Ping Ou, Wanxue Zhang, Qiongyu Zhou
Wichtige Hinweise
Yadong Zhang and Xiang Leng have contributed equally to the present work.
Abstract
In this paper, compact Ni–W and Ni–W–Cr2O3 nanocomposite coatings were deposited on mild steel substrates by DC electrodeposition method. The surface morphology, elemental composition, and structure of the obtained coatings were investigated by scanning electron microscopy, energy dispersive spectrometer, and x-ray diffraction. The corrosion resistance was evaluated by potentiodynamic polarization (Tafel) and electrochemical impedance spectroscopy. It is shown that incorporation of Cr2O3 nanoparticles into amorphous Ni–W coating would transform its structure into crystalline and influence its properties. The microhardness of Ni–W–Cr2O3 nanocomposite coatings (717–764 HV0.1) is significantly bigger than that of Ni–W coating (687 HV0.1). In addition, with increase of Cr2O3 addition in the electroplating bath, a tendency of improvement in hardness and corrosion resistance performance is observed. Finally, an excellent Ni–W–Cr2O3 nanocomposite coating with a slightly lower resistance and much higher hardness compared with Ni–W coating is electrodeposited in the bath containing 20 g/L Cr2O3 nanoparticles.