18.08.2020 | ORIGINAL ARTICLE | Ausgabe 6/2020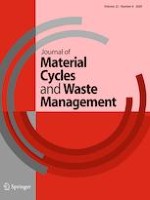 Electrolysis using Pt/SS electrodes for aluminum recovery from drinking water treatment sludge
Zeitschrift:
Autoren:

Rizkiy Amaliyah Barakwan, Wahyu Budi Pratiwi, Yulinah Trihadiningrum, Arseto Yekti Bagastyo
Wichtige Hinweise
Electronic supplementary material
Publisher's Note
Springer Nature remains neutral with regard to jurisdictional claims in published maps and institutional affiliations.
Abstract
Alum sludge from the drinking water treatment plant (DWTP) of Surabaya City, Indonesia, potentially contains high aluminum and organic pollutant contents. Aluminum is sourced from the use of aluminum sulfate as a coagulant during the water treatment process. Whereas, the organic pollutant is from domestic and industrial wastewater discharges into the raw water source. Aims of this study were to characterize the alum sludge of the Surabaya DWTP, to determine suitable electrode materials and optimum electrical current for aluminum recovery using electrolysis. The sludge was characterized according to metal concentrations and chemical oxygen demand (COD). Cyclic voltammetry, a common method for determining appropriate electrode materials for electrolysis, was conducted to confirm platinum (Pt) and stainless steel A304 (SS A304) as suitable electrodes. A polarization test was applied to determine the current for electrolysis. Electrolysis using these electrodes was conducted in one compartment reactor for 6 h. The results showed that the sludge had high concentrations of aluminum and organic substance. The suitable anode and cathode in the electrolysis of acidified alum sludge at pH 3 were Pt and SS A304, respectively. Aluminum recovery efficiency was achieved at 300 mA (52.10%), in which metal impurities were low, and COD removal was 24%.