2015 | OriginalPaper | Buchkapitel
3. Electromagnetic Field in Cylindrical Bodies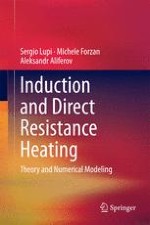 Erstes Kapitel lesen
Autoren: Sergio Lupi, Michele Forzan, Aleksandr Aliferov
Abstract
The third chapter deals with the induction and direct resistance heating of cylindrical workpieces. For the induction heating cases, solenoidal inductors are considered, leading to an axisymmetric configuration. The chapter is subdivided into 4 sections. In Sect.
3.1
, the induction and direct resistance heating are considered for solid cylindrical workpieces made of nonferrous metals. Analytical solutions of the electromagnetic problem give the distributions of the heating sources and main integral parameters, like equivalent resistance and reactance. The analytical solutions lead to quite complex formulas that can be easily evaluated thanks to dimensionless diagrams. In Sect.
3.2
, analytical solutions are provided for nonlinear material, like ferromagnetic steel. The Sects.
3.3
and
3.4
deal with the heating of tubes, made of nonferrous and ferrous materials respectively. For induction heating cases, the use of internal or external inductors is considered. The main integral quantities can be easily evaluated with diagrams that are function of the dimensionless thickness and radii, internal and external, of the tube.