2019 | OriginalPaper | Buchkapitel
9. Electromagnetic Waves in an Inhomogeneous Medium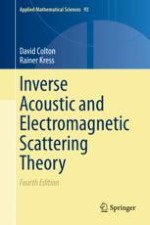 Erstes Kapitel lesen
Autoren: David Colton, Rainer Kress
Abstract
In the previous chapter, we considered the direct scattering problem for acoustic waves in an inhomogeneous medium. We now consider the case of electromagnetic waves. However, our aim is not to simply prove the electromagnetic analogue of each theorem in Chap.
8
but rather to select the basic ideas of the previous chapter, extend them when possible to the electromagnetic case, and then consider some themes that were not considered in Chap.
8
, but ones that are particularly relevant to the case of electromagnetic waves. In particular, we shall consider two simple problems, one in which the electromagnetic field has no discontinuities across the boundary of the medium and the second where the medium is an imperfect conductor such that the electromagnetic field does not penetrate deeply into the body. This last problem is an approximation to the more complicated transmission problem for a piecewise constant medium and leads to what is called the exterior impedance problem for electromagnetic waves.