01.12.2010 | Ausgabe 12/2010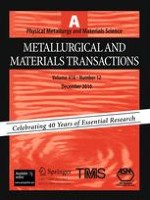 Electromotive Force Measurements in the Ternary System Bi-In-Zn
Zeitschrift:
Autoren:

Sabine Knott, Zuoan Li, C.-H. Wang, Adolf Mikula
Wichtige Hinweise
Manuscript submitted October 12, 2007.
Abstract
The thermodynamic properties of the ternary Bi-In-Zn system were determined with the electromotive force (EMF) method using a liquid electrolyte. Four different cross sections with constant In/Bi ratios of 1:2, 1:1, 2:1, and 9:1 were applied to measure the thermodynamic properties of the ternary system in the temperature range between the liquidus temperature of the alloys and 973 K (700 °C). Zinc was added in steps of 5 at. pct from 5 to 90 pct. The partial free energies of Zn in liquid Bi-In-Zn alloys were determined as a function of concentration and temperature. The integral Gibbs free energy and the integral enthalpy of the ternary system at 873 K (600 °C) were calculated by Gibbs–Duhem integration. The ternary interaction parameters were evaluated using the Redlich–Kister–Muggianu polynomials.