01.07.2016 | Original Contribution | Ausgabe 7/2016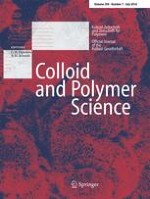 Electrophoresis and electric conduction in a suspension of charged soft particles
Zeitschrift:
Autoren:

Hsuan C. Liu, Huan J. Keh
Abstract
A thorough analytical study of the electrophoresis and electric conduction in a suspension of charged soft particles in an arbitrary electrolyte solution is presented through the use of a unit cell model. Each soft particle is a spherical hard core of radius
r
0
and constant surface charge density
σ
covered with a permeable porous layer of constant thickness
a
 − 
r
0
and uniform fixed charge density
Q
. Solving the relevant electrostatic and electrokinetic differential equations, we obtain closed-form formulas for the electrophoretic mobility of the soft particles and effective electric conductivity of the suspension. These results are expressed as linear functions of
σ
and
Q
for arbitrary values of
r
0
/
a
,
λa
,
κa
, and the particle volume fraction of the suspension, where
λ
is the reciprocal of the Brinkman permeation length of the surface layer of each particle, and
κ
is the reciprocal of the Debye screening length. The effects of the surface layer characteristics and particle interactions on the electrophoretic mobility and effective conductivity are interesting, significant, and complicated. The general results for a suspension of charged soft spheres, which reduce to those of hard spheres and porous spheres in the limits
r
0
 = 
a
and
r
0
 = 0, respectively, provide valuable information for interpreting experimental data.