08.05.2018 | Ausgabe 1-2/2019 Open Access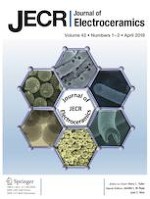 Electrophysical properties of the multicomponent PBZT-type ceramics doped by Sn4+
Zeitschrift:
Autoren:

Dariusz Bochenek, Przemysław Niemiec, Ryszard Skulski, Małgorzata Adamczyk, Dagmara Brzezińska
Abstract
In the work, the multicomponent Pb
0.75
Ba
0.25
(Zr
0.65
Ti
0.35
)
1-

a
Sn
a
O
3
(PBZT/Sn) ceramics were obtained with various tin amounts (
a
from the range of 0.0 to 0.1). The densification of the PBZT/Sn ceramic samples was performed using pressureless sintering method. The effect of SnO
2
content on the crystal structure of PBZT/Sn ceramics, microstructure, DC electrical conductivity and electrophysical properties (including dielectric and ferroelectric testes), were investigated. The PBZT/Sn ceramic samples exhibit high values of dielectric permittivity at the temperature of ferro-paraelectric phase transition and show the relaxor character of phase transition. Excessive SnO
2
contents doping of the PBZT/Sn materials (already for
a
 = 0.1) might lead to lattice stress and structure defects, which successively leads to the deterioration of ferroelectric and dielectric properties of the ceramic samples. The presented research shows that the addition of SnO
2
to the base PBZT compound (in the proper proportion) gives an additional possibility of influencing the parameters essential for practical applications, from the areas of micromechatronics and microelectronics.