02.08.2019 | ORIGINAL ARTICLE | Ausgabe 6/2019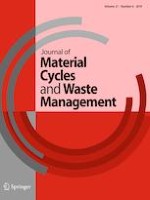 Electroplating sludge handling by solidification/stabilization process: a comprehensive assessment using kaolinite clay, waste latex paint and calcium chloride cement additives
Zeitschrift:
Autoren:

Florencio Ballesteros, Arceo Antonio Manila, Angelo Earvin Sy Choi, Ming Chun Lu
Wichtige Hinweise
Publisher's Note
Springer Nature remains neutral with regard to jurisdictional claims in published maps and institutional affiliations.
Abstract
This research examined the solidification/stabilization process of using a cement binder with actual electroplating sludge. An extensive comparative analysis was done with the cement–sludge mixture before and after the application of cement additives (kaolinite clay, waste latex paint and calcium chloride). The characterization analysis using the Fourier transform infrared spectrophotometer and X-ray diffraction analysis indicated the development of hydration at different cement mixtures. Through a comprehensive assessment of various cement additives, this study showed that the utilization of the admixtures in the cement binder could surpass the required standard unconfined compressive strength (350 kPa). Moreover, calcium chloride as its chemical additive (1704.5 kPa) was able to further aid the strength development against the control concrete (1151.5 kPa) at 28 days. In terms of the leaching tests, the use of cement additives has proved to successfully immobilize the heavy metals (Ag, Cu and Ni) in the cement–sludge matrix based on the toxicity characteristic leaching procedure. The results revealed an effective leaching resistance that leads to satisfying the stringent regulatory leaching requirements of the United States Environmental Protection Agency and the European Union Council (Ag ≤ 5.0 mg/L, Cu ≤ 0.6 mg/L and Ni ≤ 0.12 mg/L).