01.06.2015 | Ausgabe 3/2015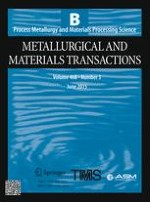 Electroreduction of Iron(III) Oxide Pellets to Iron in Alkaline Media: A Typical Shrinking-Core Reaction Process
Zeitschrift:
Autoren:

Xingli Zou, Shanlin Gu, Xionggang Lu, Xueliang Xie, Changyuan Lu, Zhongfu Zhou, Weizhong Ding
Wichtige Hinweise
Manuscript submitted December 3, 2014.
Abstract
Low temperature electrochemical reduction of iron(III) oxide to iron in a strongly alkaline solution has been systematically investigated in this article. The facile electrochemical process was carried out in 50 to 70 wt pct aqueous NaOH solution at 383 K (110 °C) and 1.7 V. The preformed spherical Fe2O3 pellets with porous structures were used directly as precursors for the electrolytic production of iron. The influences of the experimental parameters on the electroreduction process and the characteristics of the iron products as well as the reaction mechanisms were investigated. The results show that the precursor's pre-sintering process and the concentration of NaOH aqueous electrolyte have significant influences on the electroreduction process. The electroreduction-generated spherical metallic iron layer comprising dendritic iron crystals is first formed on the surface of Fe2O3 pellet precursor and then extends gradually into the pellet's interior along the radial direction. The electroreduction process is confirmed to be a typical shrinking-core reaction process. The direct solid state electroreduction mechanism and the dissolution-electrodeposition mechanism coexist in the electrochemical process. The experimental observations suggest that the dissolution-electrodeposition mechanism appears to be the dominant mechanism under the experimental conditions employed in this study. This facile process may open a new green electricity-based route for the production of dendritic iron crystals from iron(III) oxide in alkaline media.