02.07.2018 | Composites | Ausgabe 20/2018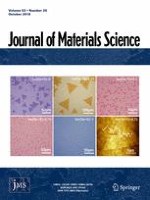 Electrospinning synthesis of porous Bi12TiO20/Bi4Ti3O12 composite nanofibers and their photocatalytic property under simulated sunlight
Zeitschrift:
Autoren:

Alan Meng, Jing Xing, Wenlong Guo, Zhenjiang Li, Xiaomei Wang
Wichtige Hinweise
Electronic supplementary material
Abstract
Porous composite nanofibers consisted of cubic Bi12TiO20, and orthorhombic Bi4Ti3O12 with pore size of 5–10 nm have been successfully synthesized by combining electrospinning with calcination for photodegrading methyl orange (MO). Calcination temperature has a great effect on the ratio of Bi12TiO20 and Bi4Ti3O12 and their morphology, which in turn affects the photocatalytic property of the products. MO was almost completely degraded over the as-prepared samples obtained under the optimizing calcination temperature of 500 °C after irradiating for 40 min under simulated sunlight. Besides, cycle and regeneration experiments show that the porous Bi12TiO20/Bi4Ti3O12 composite nanofibers possess fine cycle stability and regeneration ability, after the regenerative photocatalyst was recycled twice, 91% of the MO was degraded. Based on the characterization results, the mechanism of the improvement in photocatalytic property of Bi12TiO20/Bi4Ti3O12 composite nanofibers was also investigated, and h+ played a major role in the photodegradation of MO. In addition, the as-prepared Bi12TiO20/Bi4Ti3O12 composite nanofibers show a certain capacity of photocatalytic hydrogen production under the simulated sunlight. This work not only provides a porous fiber with good photocatalytic activity, but also provides a reference for the preparation and performance study of other fibers.