01.12.2007 | Ausgabe 6/2007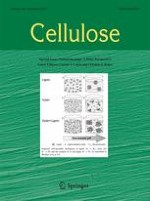 Electrospun cellulose acetate fibers: effect of solvent system on morphology and fiber diameter
Zeitschrift:
Autoren:

Santi Tungprapa, Tanarinthorn Puangparn, Monchawan Weerasombut, Ittipol Jangchud, Porntiva Fakum, Somsak Semongkhol, Chidchanok Meechaisue, Pitt Supaphol
Abstract
This paper reports an investigation of the effects of solvent system, solution concentration, and applied electrostatic field strength (EFS) on the morphological appearance and/or size of as-spun cellulose acetate (CA) products. The single-solvent systems were acetone, chloroform,
N
,
N
-
dimethylformamide (DMF), dichloromethane (DCM), methanol (MeOH), formic acid, and pyridine. The mixed-solvent systems were acetone–DMAc, chloroform–MeOH, and DCM–MeOH. Chloroform, DMF, DCM, MeOH, formic acid, and pyridine were able to dissolve CA, forming clear solutions (at 5%
w
/
v
), but electrospinning of these solutions produced mainly discrete beads. In contrast, electrospinning of the solution of CA in acetone produced short and beaded fibers. At the same solution concentration of 5% (
w
/
v
) electrospinning of the CA solutions was improved by addition of MeOH to either chloroform or DCM. For all the solvent systems investigated smooth fibers were obtained from 16% (
w
/
v
) CA solutions in 1:1, 2:1, and 3:1 (
v
/
v
) acetone–DMAc, 14–20% (
w
/
v
) CA solutions in 2:1 (
v
/
v
) acetone–DMAc, and 8–12% (
w
/
v
) CA solutions in 4:1 (
v
/
v
) DCM–MeOH. For the as-spun fibers from CA solutions in acetone–DMAc the average diameter ranged between 0.14 and 0.37 μm whereas for the fibers from solutions in DCM–MeOH it ranged between 0.48 and 1.58 μm. After submersion in distilled water for 24 h the as-spun CA fibers swelled appreciably (i.e. from 620 to 1110%) but the physical integrity of the fibrous structure remained intact.