27.07.2020 | ORIGINAL ARTICLE | Ausgabe 6/2020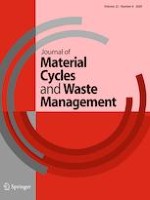 Electrospun cellulose nanofibers from toilet paper
Zeitschrift:
Autoren:

A. G. Kiper, A. Özyuguran, S. Yaman
Wichtige Hinweise
Publisher's Note
Springer Nature remains neutral with regard to jurisdictional claims in published maps and institutional affiliations.
Abstract
Toilet paper was used to produce cellulosic nanofibers through electrospinning method. Dissolution of toilet paper was attempted in either solutions of 0.5–8.5 wt% lithium chloride in Dimethylacetamide (LiCl/DMAc) or Trifluoroacetic acid (TFA). LiCl/DMAc solvent with concentrations lower than 8 wt% was incapable of completely dissolving the toilet paper even though several days of interaction. 8 wt% solvent dissolved the toilet paper, but the obtained solution was too viscous for spinning, and spraying occurred rather than spinning, and hardly visible deposits with fringed structure formed. In contrast, TFA solution dissolved the toilet paper, and the solutions could be spun easily. In these tests, spinning parameters were changed within the feeding rates of 2.00–9.25 mL/h, needle tip-to-collection plate distances of 140–205 mm, voltage of 23–28 kV, and relative humidity of 53–70%. The produced fibers were characterized by Scanning Electron Microscopy (SEM), X-ray Diffraction (XRD), and Fourier-Transform Infrared Spectroscopy (FTIR). It was concluded that the produced fibers are ultrafine with nanoscale diameter, and the morphologies of produced fibers are severely in the shape of bead-on-string fibers. Besides, the use of TFA solvent led to reduction in the crystallinity of cellulose that is one of the typical intrinsic characteristics of cellulose.