04.12.2019 | Original Contribution | Ausgabe 1/2020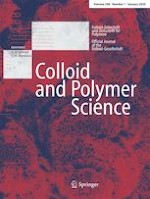 Electrospun PCL-based polyurethane/HA microfibers as drug carrier of dexamethasone with enhanced biodegradability and shape memory performances
Zeitschrift:
Autoren:

Haitao Lv, Dongyan Tang, Zhaojie Sun, Jingru Gao, Xu Yang, Shuyue Jia, Jing Peng
Wichtige Hinweise
Publisher's note
Springer Nature remains neutral with regard to jurisdictional claims in published maps and institutional affiliations.
Abstract
Shape memory polymers (SMP) with better biodegradability and better stability have great potential applications in biomedical fields, such as the drug carriers or the tissue engineering scaffolds. In this study, poly(ε-caprolactone)(PCL)-based polyurethane(PU) microfibers were fabricated with the containing of hydroxyapatite(HA) to enhance the biodegradability and to exhibit excellent shape memory performance. The composition, the morphology, the thermal stability, and the mechanical properties of the microfibers were characterized and detected using Fourier transform infrared spectroscopy (FTIR),
1
H nuclear magnetic resonance (
1
HNMR), scanning electron microscopy (SEM), differential scanning calorimetry (DSC). and dynamic mechanical analysis (DMA), etc. And dexamethasone was selected as drug model to investigate the delivery and release behaviors of the carrier of the microfibers. It was revealed that HA enhanced the degradation rate of the shape memory polyurethane (SMPU) fibers, and the fibers could guarantee a sustained long time drug release. The detection on the shape memory performance found that, with the different addition amounts of HA, the composite microfibers of (SMPU) and HA exhibited the different shape memory transition temperature (
T
trans
) values. And with the addition of 3 wt% of HA, the excellent shape recovery ratios of
R
r
(> 97%) and the shortest recovery time of ~ 6 s could be obtained. With further increase of the amounts of HA, the recovery force and the recovery time were reduced and prolonged, respectively. The obtained results proved that the biodegradable SMPU/HA composite microfibers have more valuable application prospects in biomedical fields.