2006 | OriginalPaper | Buchkapitel
Elephant Island Recent Tectonics in the Framework of the Scotia-Antarctic-South Shetland Block Triple Junction (NE Antarctic Peninsula)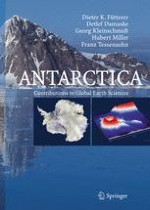 Erstes Kapitel lesen
Autoren: Jesús Galindo-Zaldívar, Adolfo Maestro, Jerónimo López-Martínez, Carlos Sanz de Galdeano
Verlag: Springer Berlin Heidelberg
Elephant Island is an outcrop of the South Shetland Block, and is located at the southeastern prolongation of the Shackleton Fracture Zone. The South Shetland Block constitutes a continental fragment of the southern branch of the Scotia Arc and has been separated since the Pliocene from the Antarctic Peninsula by the opening of the Bransfield Strait and the transtensional fault zone that extends along the South Scotia Ridge. The northern boundary of the block is determined by subduction at the South Shetland Trench and its eastwards prolongation. The Shackleton Fracture Zone extends up to the South Shetland Block and constitutes the westernmost segment of the Scotia-Antarctic plate boundary. In this tectonic context, Elephant Island permits study of the rocks and the structures that resulted from deformation of the South Shetland Block near the triple junction with the Antarctic and Scotia Plates.
Several lines of evidence point to important and recent uplift of Elephant Island: presence of HP/LT metamorphic rocks, marine terraces, and high relief. This is the consequence of at least two processes: subduction of the thickened crust related to the Shackleton Fracture Zone that produced local crustal thickening and post glacial isostatic rebound.
This paper reports the results of a study of brittle structures in the western and southern cliffs of Elephant Island. It is shown that recent stresses were variable, in accordance with the tectonic setting. The northwestern sectors are dominated by compression with NE-SW and NW-SE trends respectively related to the Scotia-Antarctic sinistral transcurrence and to subduction of the oceanic lithosphere that was modified in the vicinity of the Shackleton Fracture Zone. In the southern sector, extension predominates with approximately WNW-ESE trend, related to Bransfield Strait opening and transtensional faults located along the South Scotia Ridge. In addition, radial extension has been identified in different sectors that may be related to the uplift of the island.