01.10.2011 | Research Paper | Ausgabe 4/2011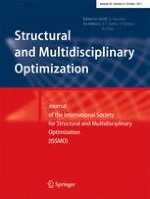 Eliminating beta-continuation from Heaviside projection and density filter algorithms
Zeitschrift:
Autoren:

James K. Guest, Alireza Asadpoure, Seung-Hyun Ha
Abstract
Projection methods and density filters based on the Heaviside step function are an effective means for producing discrete (0–1) solutions in continuum topology optimization. They naturally impose a minimum length scale on designed features and thereby prevent numerical instabilities of checkerboards and mesh dependence, as well as provide the designer a tool to influence solution manufacturability. A drawback of the Heaviside approach is that a continuation method must be applied to the continuous approximation so as not to approach the step function too quickly. This is achieved by gradually increasing a curvature parameter known as
β
as the optimization progresses. This is not only inefficient, but also causes slight, artificial perturbations to the topology. This note offers simple modifications to optimizer algorithms and/or Heaviside formulation that allow this continuation method to be eliminated. The modifications are tested on minimum compliance and compliant inverter benchmark problems and are shown to be effective and efficient.