01.01.2014 | Ausgabe 1/2014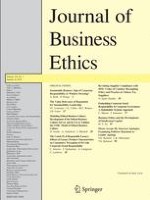 Embedding Corporate Social Responsibility in Corporate Governance: A Stakeholder Systems Approach
Zeitschrift:
Autoren:

Chris Mason, John Simmons
Abstract
Current research on corporate social responsibility (CSR) illustrates the growing sense of discord surrounding the 'business of doing good' (Dobers and Springett, Corp Soc Responsib Environ Manage 17(2):63–69,
2010
). Central to these concerns is that CSR risks becoming an over-simplified and peripheral part of corporate strategy. Rather than transforming the dominant corporate discourse, it is argued that CSR and related concepts are limited to "emancipatory rhetoric…defined by narrow business interests and serve to curtail interests of external stakeholders." (Banerjee, Crit Sociol 34(1):52,
2008
). The paper addresses gaps in the literature and challenges current thinking on corporate governance and CSR by offering a new conceptual framework that responds to the concerns of researchers and practitioners. The limited focus of existing analyses is extended by a holistic approach to corporate governance and social responsibility that integrates company, shareholder and wider stakeholder concerns. A defensive stance is avoided by delineating key stages of the governance process and aligning profit centred and social responsibility concerns to produce a business-based rationale for minimising risk and mainstreaming CSR.