2019 | OriginalPaper | Buchkapitel
Embracing Artificial Intelligence and Digital Personnel to Create High-Performance Jobs in the Cyber Economy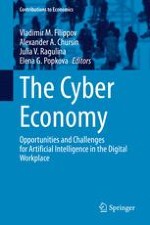 Erstes Kapitel lesen
Autoren: Svetlana V. Lobova, Aleksei V. Bogoviz
Abstract
Purpose
: The purpose of the chapter is to study the process of creating highly efficient jobs in the cyber economy through the integration of AI and employees' mastering new digital competencies.
Methodology
: Evolutional (historical) methods, analysis, synthesis, and algorithmization are used.
Conclusions
: It is determined that the modern labor market is peculiar for the emergence of a new type of employee—AI. The management of labor efficiency in the cyber economy is oriented not at humans but at robots, which reduces production costs. Depending on the level of coding of operations, highly efficient jobs in the cyber economy are either fully replaced by AI or envisage effective interactions between humans and AI. In the latter case, human employees will need to continually improve and develop their cyber competencies. In order to measure the efficiency of a job working with AI, there has to be an integral indicator taking account of the usage of resources, involvement of employees, and work satisfaction.
Originality/value
: The authors propose competencies that employees have to possess with the wide implementation of AI technologies. They reflect on the conditions in which highly efficient jobs could be created, and offer a vision for the transformation of jobs into highly efficient jobs within the cyber economy.