2011 | OriginalPaper | Buchkapitel
3. Emergence of Epibraimatics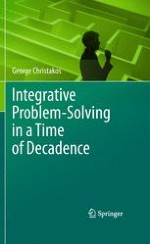 Erstes Kapitel lesen
Autor: George Christakos
Verlag: Springer Netherlands
Abstract
Two and a half millennia have passed since the "father of medicine" brought people's attention to the key role of the brain in human affairs. In the footsteps of Hippocrates, the workings of the brain continue to be at the center of twenty-first century cutting-edge research.
Epibraimatics
emerges as a synthesis of epistemic ideas and principles (
Epi
) from the broader field of brain sciences (
brai
) with the goal of developing action-based mathematics (
matics
) for solving real-world problems under conditions of multisourced uncertainty and composite space–time change. Also, as noted earlier, Epibraimatics assigns considerable weight on the meaning of things. By re-examining the implications of these ideas in the broader IPS context, the above synthesis assigns a meaning to the problem–solution that is conceptually different than the conventional interpretation. In the same spirit, Epibraimatics seeks a relationship between objectivity and interpretivity involving a generative tension between the two. Hence, it is concerned about any factor that could threaten to topple the sensitive balance between objectivity and interpretivity to one side or the other (objective approaches to problem-solving do strip particular moments of phenomenal life of their particularity, and interpretive approaches are biased by the participation of the subject).