2018 | OriginalPaper | Buchkapitel
Emotional Geography of St. Petersburg: Detecting Emotional Perception of the City Space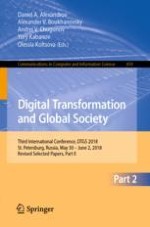 Erstes Kapitel lesen
Autoren: Aleksandra Nenko, Marina Petrova
Abstract
Emotional perception of the city space has a great share in subjective well-being and is one of the core subjective indicators of the quality of urban environment. Studies of emotional response towards the city space have recently gained popularity within digital humanities. In the paper we present a new system which allows collecting data on urban emotions - an interactive platform called
Imprecity
, which has been recently developed at ITMO University and integrated into a wider framework of
Smart Saint
-
Petersburg
project supported by city administration of Russian city Saint-Petersburg. When authorized through social networks
Imprecity
user receives a possibility to place emoji on St.Petersburg map as well as write comments on each emotion. Emotions are divided into 5 groups based on the typology of basic emotions defined by Paul Ekman - joy, sadness, anger, disgust, and fear.
Imprecity
functions as a mobile and desktop version of a website and will be further developed as a mobile app. The emotions and comments collected from users are processed to form recommendations for placemaking, moreover, active users of
Imprecity
have a possibility to unite together and propose projects for renovation of specific urban places with the help of experts. We consider methodological difference between studying emotional perception by processing spontaneous data generated by users online and study of emotionally loaded data created by users deliberately via
Imprecity
. We show visual analytical tools to process a test sample of data collected via Imprecity, such as emotional heatmaps, emotional ratings and word clouds. Analysis of data collected with
Imprecity
shows that users tend to express more joy than negative emotions; positive emotions tend to cluster close to the main points of attraction and major touristic routes. All types of emotions tend to cluster along the major mobility routes, in the city centre as well as in the sleeping quarters.