21.07.2020 | Review Paper | Ausgabe 4/2020 Open Access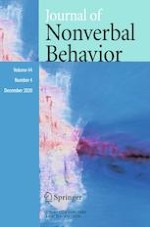 Emotional Voice Intonation: A Communication Code at the Origins of Speech Processing and Word-Meaning Associations?
Zeitschrift:
Autor:

Piera Filippi
Wichtige Hinweise
Publisher's Note
Springer Nature remains neutral with regard to jurisdictional claims in published maps and institutional affiliations.
Introduction
A Comparative Approach to the Evolution of Human Language: Insights from Empirical Studies
In the last few decades, a surge of studies has emerged with the aim of applying an empirical and comparative approach to animal vocal communication as a way to enhance our understanding of the evolution of the mechanisms enabling human language (hereafter, language). The present work adopts this approach, and includes the following methodological steps: (a) identifying and defining core abilities involved in language; (b) tracing the presence of these abilities in multiple closely-related or phylogenetically independent species; (c) analyzing the factors that may have boosted the evolution of these abilities into their current form in language.
Language-Related Abilities and Emotional Intonation in Animals
Emotional Intonation: Facilitating Effect on Language Processing
The Human Ability to Identify and Produce Phonemes (Within Compositional Structures): Facilitating Effect of Emotional Intonation
The Human Ability to Associate Words with Meanings: Facilitating Effect of Emotional Intonation
A critical aspect of language to consider within the present research framework is the ability to associate arbitrary sequences of vocal sounds (i.e., words) with meanings. Notably, word-meaning association is an essential part of word learning, where categorical, conceptual and social factors come into play (Waxman and Gelman
2009
). One of the most efficient paradigms to investigate word-meaning association is the cross-situational word learning paradigm, where participants are exposed to a series of visual images containing a target referent, while hearing a target word that always co-occurs exclusively with the corresponding referent (Yu and Smith
2007
). Research applying this paradigm to an artificial language learning experiment suggests that marking a target word with IDS typical F0 exaggerated contours benefits the learners' ability to associate target word and target visual referents into a word-meaning pairing (Filippi et al.
2014
,
2017c
). This research is consistent with previous work suggesting that IDS-typical F0 prominence facilitates word-meaning mapping in preverbal infants (Ma et al.
2011
; cf. Fernald and Mazzie
1991
). In addition, much work has focused on the relative prominence of emotional intonation and lexical content within a task of emotional meaning identification. For instance, in a recent study, Filippi et al. (
2017d
) adopted a Stroop task in which participants had to identify the meaning of an emotional word by either focusing on emotional intonation (hence, ignoring lexical content) or the other way around, by focusing on lexical content, while ignoring emotional intonation. In this task, the two channels can be congruent—as in the case of the word "happy" spoken with a happy intonation—or incongruent, as in the case of happy", spoken with a sad intonation. The authors found that, in the incongruent condition, when participants had to ignore emotional intonation and identify the emotional meaning focusing on lexical content, they were significantly less accurate than when they had to ignore lexical content and identify the emotional meaning conveyed by intonation. These findings are echoed by multiple studies reporting the higher salience of emotional intonation over lexical units also at a brain level (Schirmer et al.
2002
; Schirmer and Kotz
2006
). The attested prominence of emotional intonation over lexical content corroborates the hypothesis that the ability to process emotional content through voice intonation is older than phonetic processing, and might have favored its emergence. Within this research framework, Aryani and Jacobs (
2018
) addressed the interaction between semantic content and phonemes iconically associated with high emotional arousal, for instance plosives or hissing sibilants (as assessed in Aryani et al.
2018
). The authors found that words where semantic content and constituent phonemes (e.g., the plosive consonant /k/ in "Krieg" [war]) are congruent in the expression of arousal are processed faster and more accurately. These findings are consistent with further studies showing facilitating effects at a neural level, provided by the interaction between phonemes and semantic content in emotional word processing tasks (Aryani et al.
2019
).
Conclusions
Acknowledgements
Open access funding provided by University of Zurich. The author was supported by the Forschungskredit of the University of Zurich, Grant No. [FK-19-070]. The author is grateful to Sabrina Engesser, Stuart Watson, Simon W. Townsend, and to the anonymous reviewers for their insightful comments and suggestions.
Open Access
This article is licensed under a Creative Commons Attribution 4.0 International License, which permits use, sharing, adaptation, distribution and reproduction in any medium or format, as long as you give appropriate credit to the original author(s) and the source, provide a link to the Creative Commons licence, and indicate if changes were made. The images or other third party material in this article are included in the article's Creative Commons licence, unless indicated otherwise in a credit line to the material. If material is not included in the article's Creative Commons licence and your intended use is not permitted by statutory regulation or exceeds the permitted use, you will need to obtain permission directly from the copyright holder. To view a copy of this licence, visit
http://​creativecommons.​org/​licenses/​by/​4.​0/​
.
Publisher's Note
Springer Nature remains neutral with regard to jurisdictional claims in published maps and institutional affiliations.