01.06.2014 | Regular research paper | Ausgabe 2/2014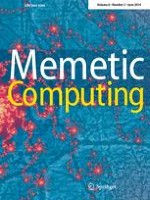 Empirical and analytical study of many-objective optimization problems: analysing distribution of nondominated solutions and population size for scalability of randomized heuristics
Zeitschrift:
Autoren:

Ramprasad Joshi, Bharat Deshpande
Wichtige Hinweise
This work is partially supported by Innoventive Industries Ltd. (India).
Abstract
Nature inspired randomized heuristics have been used successfully for single-objective and multi-objective optimization problems. However, with increasing number of objectives, what are called as "dominance resistant solutions" present a challenge to heuristics because they make it harder to locate and converge to the Pareto-optimal front. In the present work, the scalability of population-based heuristics for many-objective problems is studied using techniques from probability theory. Work in this domain tends to be more problem-specific and is largely empirical. Here a more general theoretical framework to study the problem arising from escalation of objectives is developed. This framework allows application of probability concentration inequalities to complicated multiobjective optimization heuristics. It also helps isolate the effects of escalation of objective space dimension from those of problem structure and of design space dimension. It opens up the possibility of combining the framework with more problem-specific models and with empirical work, to tune algorithms and to make problems amenable to heuristic search.