01-09-2020 | Original Article | Issue 17/2020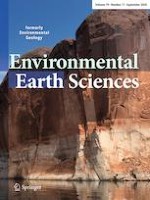 3D modelling of combination of array results for resistivity profiling data over a dyke for groundwater exploration and development
Journal:
Authors:

Dewashish Kumar, N. S. Krishnamurthy
Important notes
Publisher's Note
Springer Nature remains neutral with regard to jurisdictional claims in published maps and institutional affiliations.
Abstract
Detailed three-dimensional (3D) modelling of resistivity profiling data collected across the long outcropping in situ dyke with significant width ~ 25–30 m and intruded within the granite host rock was performed to evaluate the resistivity anomaly response, understand the dyke characteristics properties and its role in groundwater flow. The main objective of the present research work is to develop information about the subsurface and explain the observed anomaly/data, confirm the resistivity anomaly response using two different electrode configurations, namely, Wenner and Schlumberger. Interpretation of the 3D modelling results indicate high resistivity anomaly over the in situ dyke. The extent of degree of weathering of rocks (here, granite) is quite and clearly visible from the anomaly responses in model output in terms of resistivity contrasts. The results are fairly well in agreement with the field resistivity anomaly especially in terms of shape of the anomaly. The 3D theoretical forward modelling approach performed using resistivity profiling data set is much helpful and significant in establishing the knowledge of true anomaly caused due to subsurface dyke in the present geological set up. It resolved the shape and width of the dyke both laterally and vertically. The degree of weathering of dyke near the surface is well resolved. The comparison of the modelling results with the field data gives a strong correlation between resistive anomalies and the subsurface. The study is very useful for groundwater exploration and development and helps us to understand precisely the role of dyke based on the 3D modelling study.