2021 | OriginalPaper | Chapter
48 V High Power: Electric Drive for Excellent CO2 Emissions and Electric Driving Features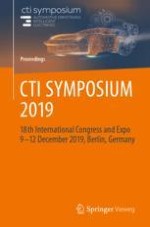 Read first chapter
Authors: Friedrich Graf, Martin Beiderbeck, Thomas Knorr, Dietmar Ellmer, Mattia Perugini
Publisher: Springer Berlin Heidelberg
Abstract
Future motor vehicles regulatory requirements for CO2 emission reduction require a significant increase in hybrid vehicles in the fleet mix of manufacturers.
The use of the internal combustion engine is increasingly replaced by the electric drive in hybrid vehicles and the challenges for exhaust aftertreatment increase, as the thermal supply of the internal combustion engine for thermal management decreases. The electric machine must have sufficient performance to enable corresponding driving patterns not only in the test cycle but also in real-life operation.
Results from Vitesco Technologies 48 V Eco-Drive System have shown that for P2 compared to a P0 hybrid, the challenge for emissions is significantly exacerbated by an increase in pure electric driving capability, especially for plug-in hybrid vehicles. At the same time, technological advances allow 48 V drives to penetrate areas of application that were previously reserved for high-voltage solutions.
This paper presents a compact design 48 V 30 kW electric machine solution, suitable for a P2/P4 configuration intended for full hybrid applications or even a plug-in hybrid and characterized by compact design with a very high-power density. At the same time, the system approach of exhaust aftertreatment is illustrated. A 48 V 30 kW "electric" means not only less CO2, but also increased electric driving and more total driving performance with significantly less effort and complexity due to 48 V as compared to a high-voltage solution.
With the help of simulations and vehicle measurements, CO2 potentials as well as various emission-relevant driving conditions of a 48 V 30 kW high-performance hybrid are examined. At the same time challenging environmental conditions and the potential for improvement is determined by the advanced Emicat® exhaust aftertreatment system.
CO
2
performance is also the result of intelligent operating strategies. In the future, they will have to make their contribution robustly to the lowest CO
2
in every driving cycle. For this purpose, connectivity and optimization algorithms in real time are enablers [
6
].