06-08-2020 | ORIGINAL ARTICLE | Issue 6/2020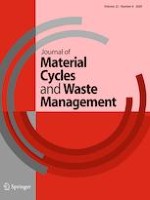 A bi-objective robust optimization model for hazardous hospital waste collection and disposal network design problem
Authors:

Zahra Homayouni, Mir Saman Pishvaee
Important notes
Publisher's Note
Springer Nature remains neutral with regard to jurisdictional claims in published maps and institutional affiliations.
Abstract
The hazardous hospital waste (HHW) is one of the main problems in urban waste management, which requires the design and implementation of a special collection and disposal system. Hospital wastes were known as important hazardous waste to be efficiently disposed within a short operational time in order to prevent the spread of infections and diseases. In this research, a multi-objective robust optimization model was developed to design a collection and disposal network of HHW under uncertain condition. The objectives are to concurrently minimize the total cost including transportation and operations costs, and the total risk of transportation and operations. To solve the proposed bi-objective model, the augmented
ε
-constraint method was employed. Moreover, the model validation is achieved using and solving several test problems in different sizes, and the analysis of the robust model was performed compared to the deterministic model. Finally, a real case study was conducted to demonstrate the applicability of the research's methodology, which was done by determining Pareto front and performing a sensitivity analysis to evolve the managerial insights.