01-07-2021 | Composites & nanocomposites | Issue 20/2021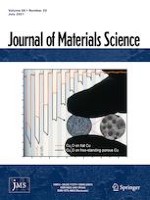 A carbazole-grafted covalent organic framework as turn-on fluorescence chemosensor for recognition and detection of Pb2+ ions with high selectivity and sensitivity
Journal:
Authors:

Nan Zhang, BinXiao Wei, Tingting Ma, Yuyang Tian, Guang Wang
Important notes
Handling Editor: Catalin Croitoru.
Supplementary Information
Publisher's Note
Springer Nature remains neutral with regard to jurisdictional claims in published maps and institutional affiliations.
Abstract
Covalent organic frameworks (COFs) are constructed from organic building units and covalent linkages. Their structures and compositions render their vast applications for adsorption, separation, catalysis and sensing. In particular, sensors based on their fluorescent properties are extensively used for molecular recognition and detection. Among the fluorescent sensors, "turn-on-type" fluorescence mode possesses visible response to the external simulation and thus exhibits significant advantages over those sensors based on "turn-off" or quenching. Herein, a carbazole-grafted covalent organic framework (COF-CB) was successfully synthesized by Schiff-base and post-grafting reaction. It is an eclipsed AA-stacking model and possesses microporous structure with regular pore structure. In addition, COF-CB is found to display the "turn-on" fluorescence response toward Pb2+ions, with its linear detecting range of Pb2+ concentrations between 0 and 80 μM. COF-CB exhibits Pb2+ sensing property with high selectivity, good anti-interference ability and low detecting limit down to 1.48 μM. Characterizations illustrate the enhancing fluorescent emission is caused by the intramolecular charge transfer (ICT) when Pb2+ ions coordinated with N and O on the COF skeleton. This work provides an available design method of "turn-on" fluorescent COF sensors for specific metal ion recognition and detection from environments.
Graphical Abstract
×