15-03-2019 | Original Paper | Issue 5/2019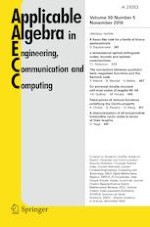 A characterization of all semiprimitive irreducible cyclic codes in terms of their lengths
Author:

Gerardo Vega
Important notes
Partially supported by PAPIIT-UNAM IN109818.
Publisher's Note
Springer Nature remains neutral with regard to jurisdictional claims in published maps and institutional affiliations.
Abstract
Just by looking at the lengths of irreducible cyclic codes, we present a simple numerical characterization by which we can easily identify those codes that are either one-weight or semiprimitive two-weight irreducible cyclic codes over any finite field. We then particularize our characterization to the class of irreducible cyclic codes of dimension two, and with this, we show that regardless of the finite field any code in this class is always either a one-weight or a semiprimitive two-weight irreducible cyclic code. We also explore the weight distribution of another kind of irreducible cyclic codes and present an infinite family comprising two subfamilies of irreducible cyclic codes that were recently studied.