01-07-2019 | APPLIED PROBLEMS | Issue 3/2019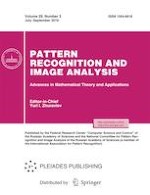 A Combination of Global and Local Features for Brain White Matter Lesion Classification
Authors:

Abderrahim Khatabi, Walid Cherif
Important notes
Abderrahim Khatabi.
Born in 1987. Received a master's degree of networks and telecommunications in 2011 from Chouaib Doukkali University (Faculty of Sciences, B.P.20, 24000 EI Jadida, Morocco) and a PhD degree (Computer Science) at Chouaib Doukkali University (Faculty of Sciences, EL Jadida, Morocco) in 2017. His research interests include: computer vision (recognition, detection and classification problems); artificial intelligence; machine learning, deep learning, multimedia, visual recognition and search; digital image processing/medical image processing.
Walid Cherif.
Born in 1987. He has completed his PhD in Data Science from Chouaib-Doukkali University (Morocco). He is an IT engineer from the National Institute of Statistics and Applied Economics (Rabat, Morocco) in which he is now member of the SI2M laboratory. He is author of many papers in reputed journals and international conferences, he has been serving as a reviewer at international journals and as a session chair at international conferences on Data Mining. He has also participated in the Scientific Committee of international conferences. His research interests include: data science, artificial intelligence, machine learning, deep learning, text and data mining.
Abstract
In the present time, the development of medical images and the increasing use of digital images have played a crucial role in medical diagnosis. In this sense, the rapid growth of magnetic resonance images (MRI) technology increased the necessity to store, analyze and describe this amount of information more efficiently. By improving these processes, decision making for clinicians may reach a more accurate and a well-informed diagnosis. To achieve this aim, machine learning approaches have been considered as a complementary pillar of image processing. It has become essential to find efficient descriptors, which characterize the images such as texture, shape and color. Although there are many representations of known features, they are difficult to use in their unchanged forms. The proposed approach combines the global and local features. Global features are extracted using the combination of magnitude and phase features of the descriptor angular radial transform (ART). Local features are obtained through local binary pattern (LBP). Four most known machine-learning approaches are then applied (SVM, ANN, NB, KNN) on both features and the combination of both techniques yielded the best tumor detection performance.